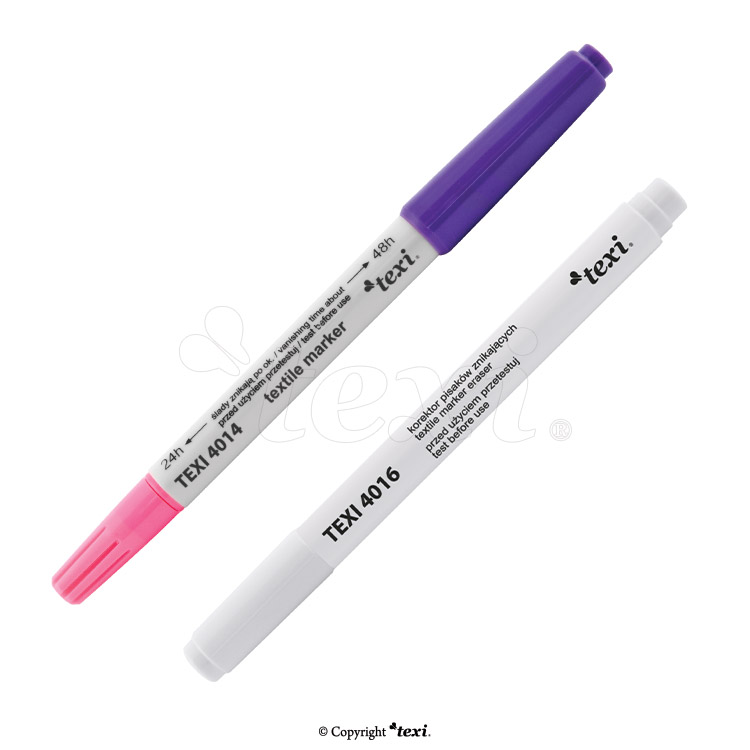 Description:
Kit for precise, temporary marking of contact points or cuts on fabrics. Double-sided, purple - pink disappearing marker and disappearing marker eraser.


Practical fabric marking kit
The TEXI 4081 set includes:
-
double-sided pen for temporarily marking
important points and lines on materials. Violet markings disappear after approx. 48 hours and pink markings after approx. 24 hours. The time at which the marks disappear may be influenced by the type of material, ambient temperature, humidity and air circulation The pen can be easily removed with a special concealer or using water.
-
eraser for disappearing marker
. Non-toxic eraser for quick erasing of markings made by disappearing pen. It is enough to trace over ink twice and it will disappear immediately.
Warning! Before use, make a test on the fabric and leave it for 48 hours. Markers can react differently to the fabric.