TEXI POST DD PREMIUM EX
1-needle post-bed mechatronic lockstitch machine with built-in servo motor - with bottom, needle and upper roller feed - complete sewing machine
Industrial sewing › Post-bed lockstitch machines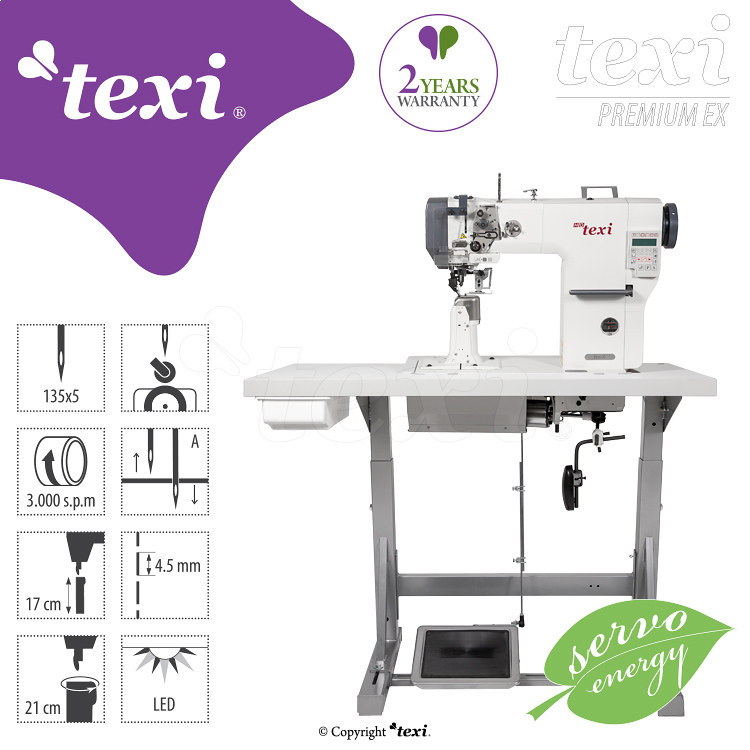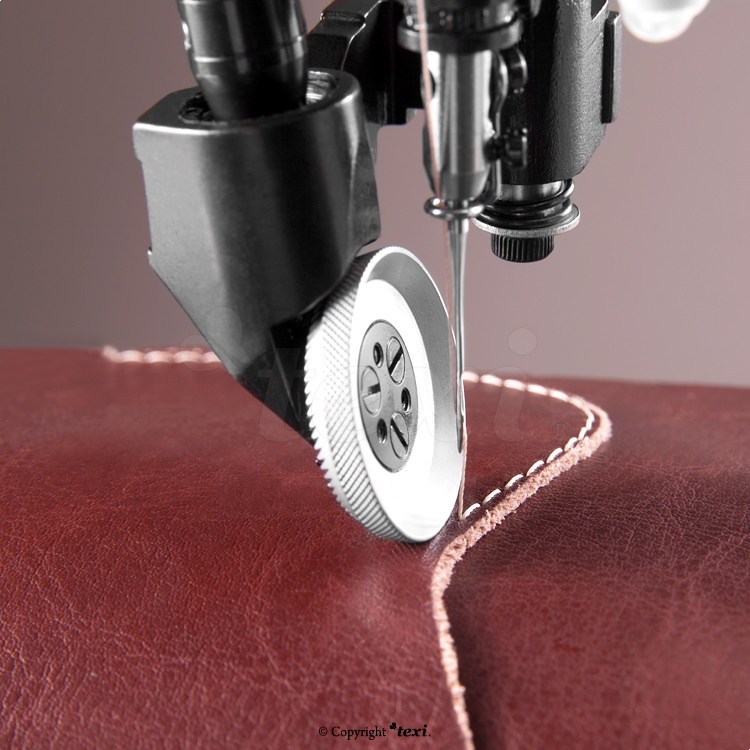 Description:
TEXI Post DD is 1-needle post-bed mechatronic "all-in-1" set lockstitch machine with bottom roller feed, needle feed and active roll presser foot (roll on the left side of the needle). With built-in energy-saving AC Servo motor. Serial equipped with automatic functions and integrated 3-degree, energy-saving LED lamp for lighting of working field.

For sewing medium and heavy fabrics. Designed for sewing in hard to get places in production of sports and leather shoes, fancy leather goods etc.

Thanks to integration of all elements the machine works quietly and without adverse vibrations. AC Servo motor saves up to 70% energy comparing to a conventional electronic motor or clutch motor.

Technical specification:
- for sewing medium and heavy fabrics
- bottom roller feed, needle feed and active roll presser foot
- max. stitch length 4.5 mm
- foot lifting up to 7 mm (hand lifter) or 10 mm (knee lifter)
- max. sewing speed 3.000 s.p.m.
- integrated 3-degree energy-saving LED lamp
- post height 17 cm
- built-in, energy-saving AC Servo 750 W motor
- voltage 220-240V
- central lubrication
- needle system 135x5 or 135x5 SERV7, with correct needle points, depending on the fabric.
- automatic functions: electromagnetic thread trimmer, electromagnetic foot lifter, reverse feeding with programmed size of the initial and final bartack, needle positioning, programming control panel.

Offered in TEXI PREMIUM EX package

2 YEARS WARRANTY PREMIUM EX
Texi lockstitch machines have 2-year, full warranty.

STAND HD TEXI PREMIUM SILVER - steel, stable and durable stand for heavy machines with height adjustment (69-83 cm), oiler holder and oiler. Powder painted in silver colour RAL 9006, which fits to line of Ergolinia chairs.

TABLE TOP TP DD PREMIUM - the highest quality table top made of moisture resistant birch plywood (30 layer) which perfectly damps vibrations. PREMIUM table top surface is coated with a special laminate with a structure suitable for the textile industry. Maximum resistant to impact, abrasion and splinters. Sides protected by ABS slats. TEXI PREMIUM table tops do not contains harmful ingredients.
Dimensions 106x55x4 cm (length x width x height).

S105 MULTICOLOR - thread cutter with a colored handle, length 10,5 cm.

Enjoy the silence, save energy.

Technical specification:
| | |
| --- | --- |
| Type of sewing material | medium, heavy |
| Type of feed | needle, roller |
| Automatic needle positioning | yes |
| Automatic thread trimming | yes |
| Automatic foot lifter | yes |
| Automatic bartacking | yes |
| LED lighting of working field | yes |
| Max. stitch length | 4.5 mm |
| Presser foot lift height | 10 mm |
| Max. sewing speed | 3000 s.p.m. |
| Needle system | 135X5 |
| Power supply | 230 V |
| Post height | 17 cm |