TEXI HD FORTE-B UF PREMIUM EX
Upholstery and leather lockstitch binding machine with unison feed, large hook, AC Servo motor and needle positioning - complete with 2 years warranty
Industrial sewing › Lockstitch machines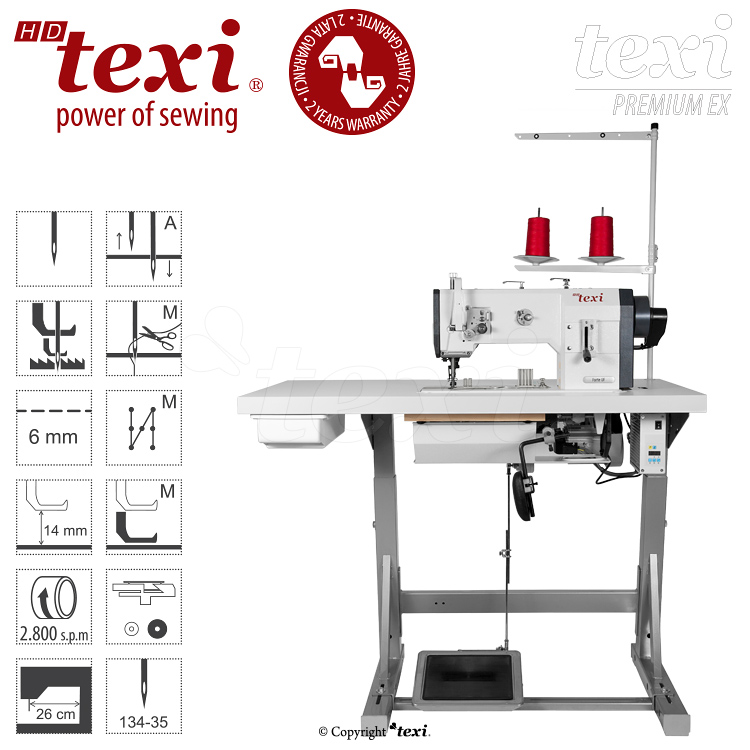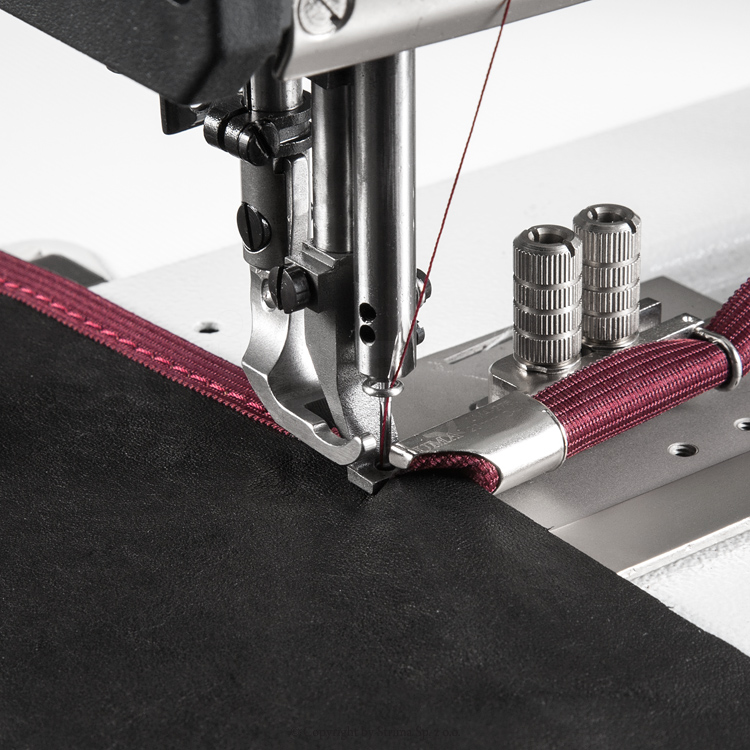 Description:
1-needle lockstitch machine with unison feed, height-adjustment of walking feet and large hook. Equipped with AC Servo 220-240 V motor 750 W and needle positioning (top - bottom).
Designed to work in the industry. For sewing heavy and very heavy materials.Suitable for binding (also on sharp curves). Binder ordered separately, depending on the tape width and binding method. Perfect for upholsterers, leatherworkers, leather garment and car seat (automotive) producers, etc.

Technical specification:
- unison feed - bottom, presser foot and needle
- stitch length up to 8 mm
- presser feet lifting up to 14 mm
- maximum sewing speed 2.800 s.p.m.
- 26 cm clearance between needle bar and machine's arm
- automatic needle positioning
- large hook (vertical axis)
- needles system 134-35
- recommended thread sizes up to 20

Offered in PREMIUM EX package

2 YEARS WARRANTY PREMIUM EX
All Texi industrial lockstitch machines have 2-year, full warranty.

STAND HD TEXI PREMIUM SILVER - steel, stable and durable stand for heavy machines with height adjustment (69-83 cm), oiler holder and oiler. Powder painted in silver colour RAL 9006, which fits to line of Ergolinia chairs.

TABLE TOP TF PREMIUM - the highest quality table top made of moisture resistant birch plywood (30 layer) which perfectly damps vibrations. PREMIUM table top surface is coated with a special laminate resistant to impact, abrasion and splinters. Sides protected by ABS slats. TEXI PREMIUM table tops do not contains harmful ingredients. Dimensions 105x55x4 cm (length x width x height).

In offer also XL table tops, specially extended and profiled for easy sewing large elements. Dimensions 130x90/70x4 cm (length x width in the largest place / width in the smallest place x height).

Technical specification:
| | |
| --- | --- |
| Type of sewing material | heavy |
| Type of feed | unison feed (walking foot) |
| Automatic thread trimming | no |
| Automatic needle positioning | yes |
| Automatic foot lifter | no |
| Automatic bartacking | no |
| Wiper | no |
| Stitch compensation button | no |
| Type of lubrication | central circuit |
| Touch screen | No |
| LED lighting of working field | no |
| Presser foot lift height | 14 mm |
| Max. stitch length | 6.0 mm |
| Max. sewing speed | 2800 s.p.m. |
| Built-in AC Servo motor | no |
| Needle system | 134-35 |
| Power supply | 230 V |
| Table top | Standard 105 x 50 cm |
| Warranty period | 24 months |