TEXI TWIN MS PREMIUM EX
Two needle lockstitch machine with needle feed, AC Servo motor and needle positioning - complete sewing machine with 2 years warranty
Industrial sewing › 2-needle lockstitch machines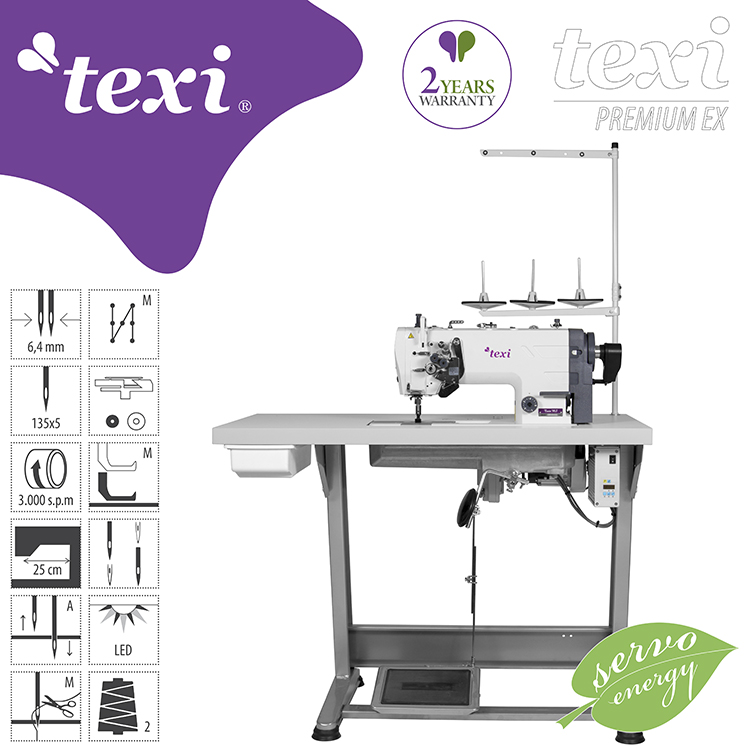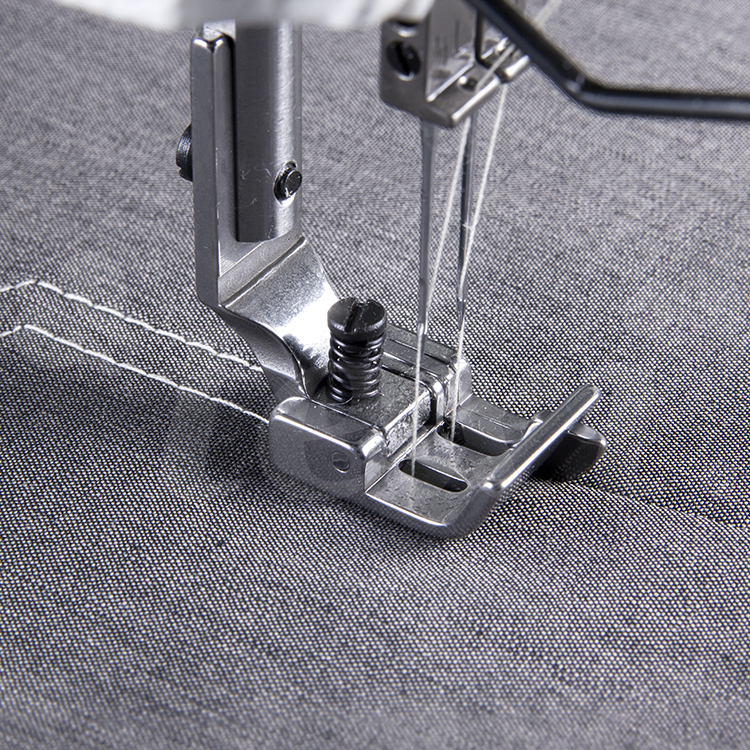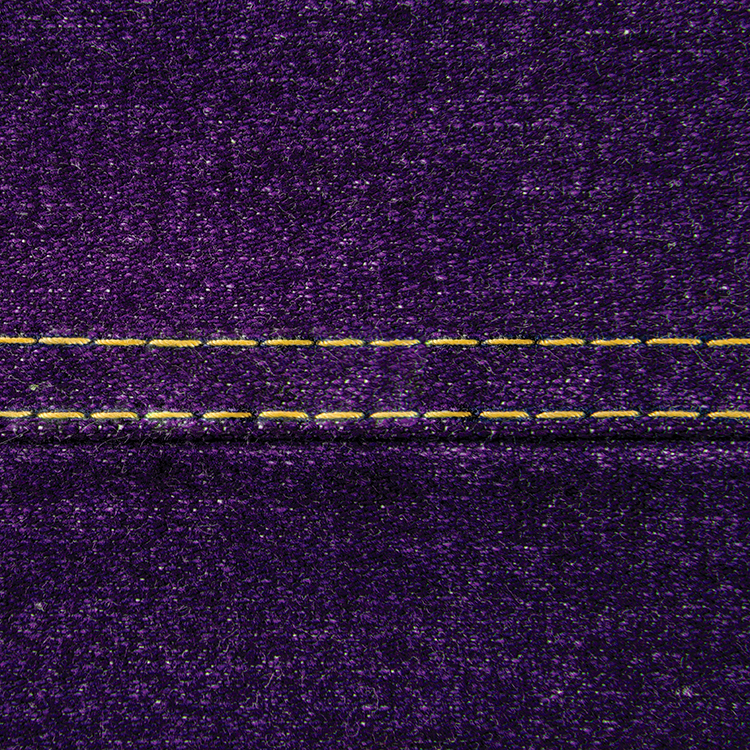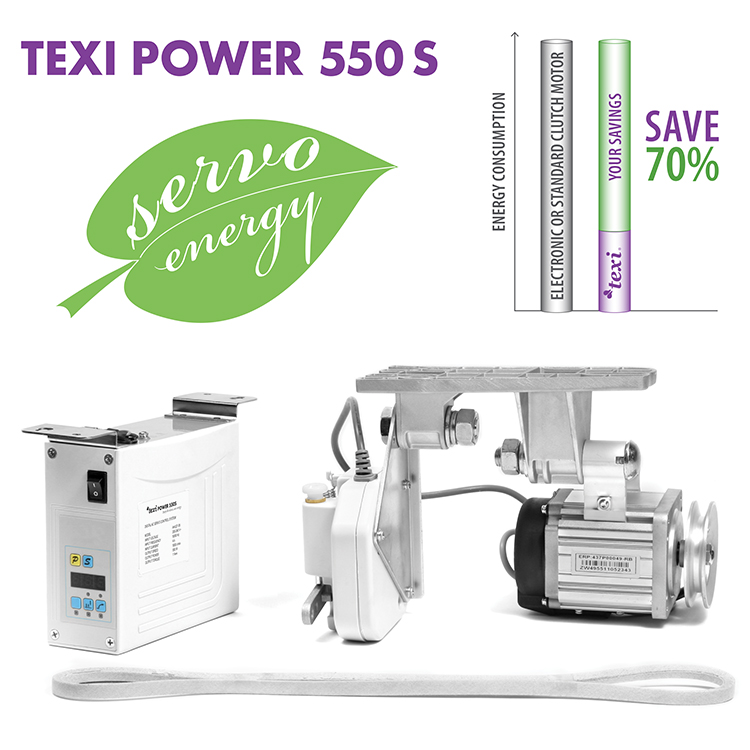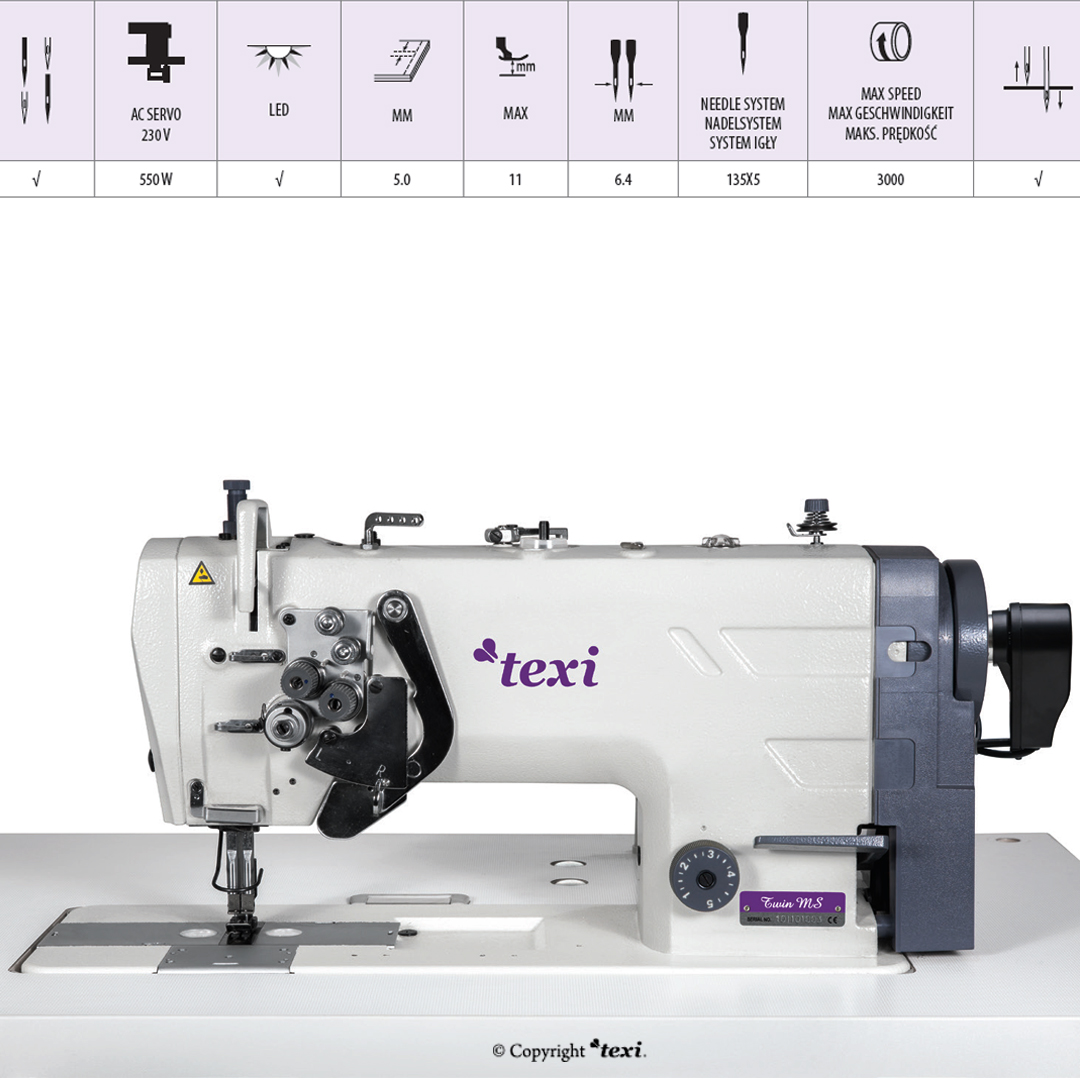 Description:
TEXI TWIN MS PREMIUM EX is a 2-needle lockstitch machine with split needles for light and medium materials.

Technical specification:
- for sewing light and medium fabrics,
- bottom feed and needle feed,
- stitch length up to 5 mm,
- maximum sewing speed 4.000 s.p.m.,
- needle distance 6,4 mm,
- split needles,
- voltage 220-240V,
- energy-saving AC Servo 550 W motor,
- automatic needle positioning,
- energy-saving LED lamp for lighting of working field,
- central lubrication,
- needles system 135x5.

Offered in TEXI PREMIUM EX package.

2 YEARS WARRANTY PREMIUM EX
All Texi industrial lockstitch machines have 2-year, full warranty.

STAND TEXI PREMIUM SILVER - steel, stable and durable universal stand with height adjustment. Powder painted in silver colour RAL 9006, which fits to line of Ergolinia chairs.

TABLE TOP TMS PREMIUM - the highest quality table top made of moisture resistant birch plywood (30 layer) which perfectly damps vibrations. PREMIUM table top surface is coated with a special laminate resistant to impact, abrasion and splinters. Sides protected by ABS slats. TEXI PREMIUM table tops do not contains harmful ingredients.

TEXI POWER 550 SM - energy-saving, single-phase 220-240 V AC Servo motor with 550W power. Works only when the machine is sewing (no idling running). Even though its power exceed previously used electronic and standard clutch motors, it saves 70% energy. Synchronizer included in the set.

The set also includes: S105 - thread cutter, length 10,5 cm.

Enjoy the silence, save energy.

Technical specification:
| | |
| --- | --- |
| Type of feed | needle |
| Automatic needle positioning | yes |
| Automatic thread trimming | no |
| Automatic foot lifter | no |
| Automatic bartacking | no |
| Wiper | no |
| Needle gauge of 2-needle machine | 6.4 mm |
| LED lighting of working field | yes |
| Max. stitch length | 5.0 mm |
| Presser foot lift height | 11 mm |
| Max. sewing speed | 4000 s.p.m. |
| Needle system | 135X5 |
| Power supply | 230 V |
| Warranty period | 24 months |