TEXI WALKER WF AUT PREMIUM EX
Automatic upholstery and leather lockstitch machine with AC Servo motor bottom feed and walking foot, large hook - complete sewing machine
Industrial sewing › Lockstitch machines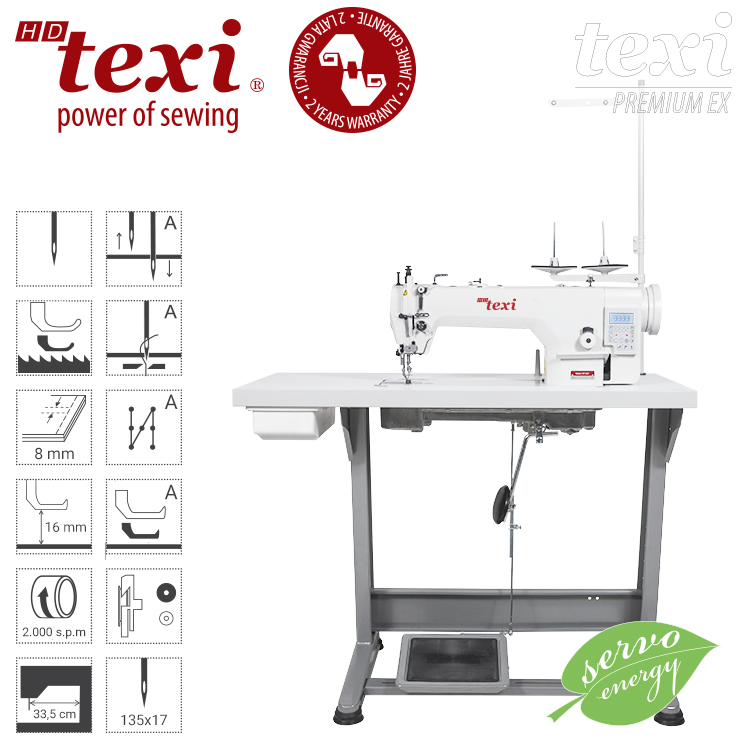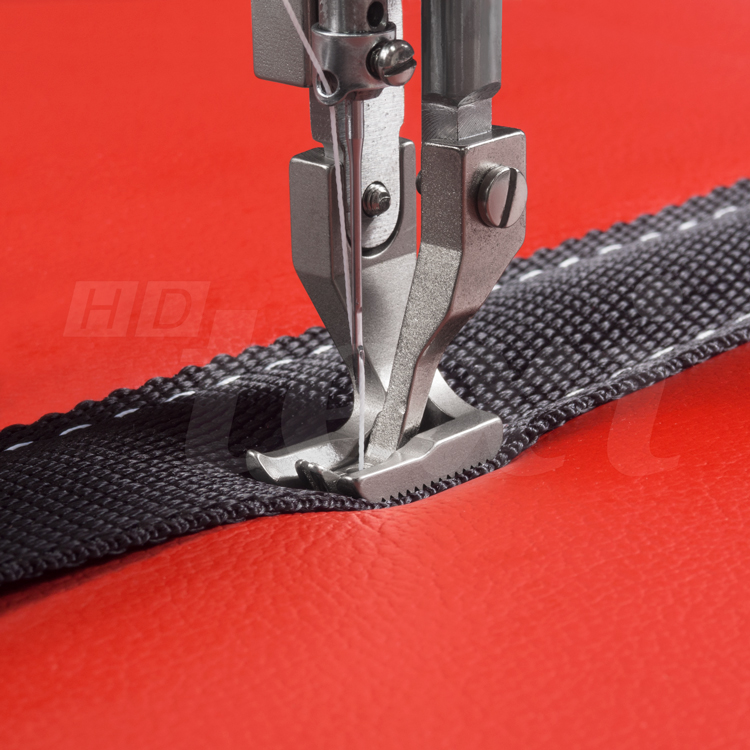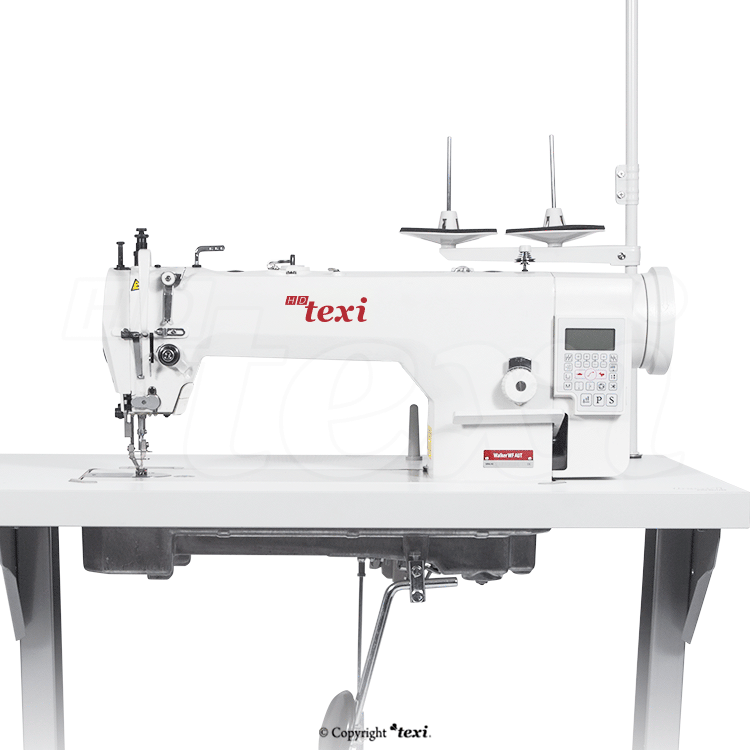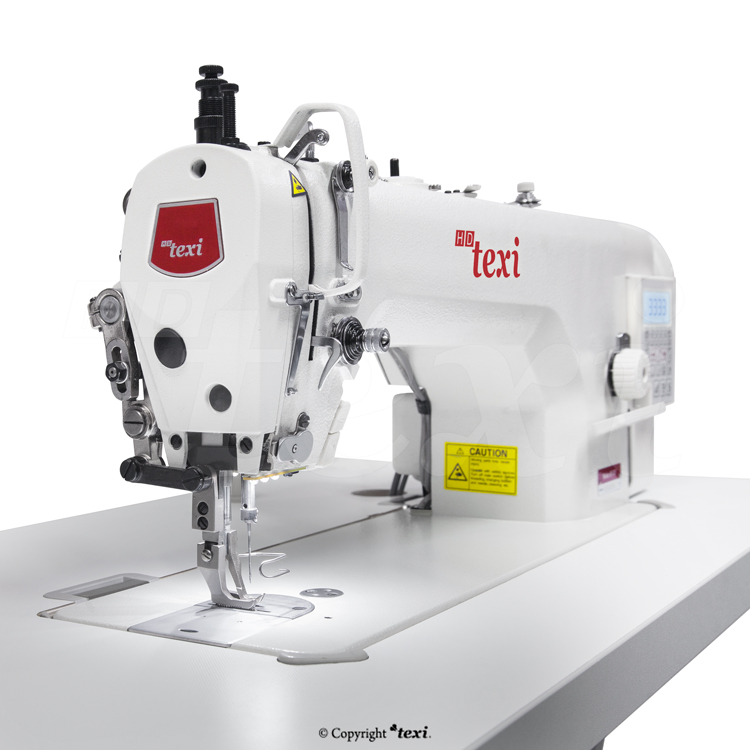 Description:
1-needle lockstitch machine with the compound feed - bottom and walking foot, Adjustable height of walking foot and large hook with increased capacity. Equipped with AC Servo motor and needle positioning (top - bottom).
Designed to work in the industry. For sewing heavy and very heavy materials. Perfect for upholsterers, leatherworkers, leather garment and car seat (automotive) producers, etc.


Machine head with built-in AC Servo motor and control box (Mechatronic). Direct Drive Servo Motor used in machine eliminates the need for belts. It uses minimal power while idle, power increases only when the treadle is depressed, thus provides an increase in efficiency, quick start-up, eliminates noise (compared with a standard clutch motor) and saves energy.
Technical specification:
- compound feed (bottom and walking foot)
- stitch length up to 8 mm
- presser feet lifting up to 16 mm
- maximum sewing speed 2.000 s.p.m.
- 33.5 cm clearance between needle bar and machine's arm
- large hook (vertical axis)
- thread trimmer
- high fabric clearance under presser foot is 8mm
- reverse feeding with programmed size of the initial and final bartack
- needle positioning
- Integrated energy-saving LED lamp for lighting of working field
- needles system 135x17 or 135x17 SERV7, with correct needle points, depending on the fabric.
Offered in PREMIUM EX package

2 YEARS WARRANTY PREMIUM EX
All Texi industrial lockstitch machines have 2-year, full warranty.
STAND TEXI PREMIUM SILVER - steel, stable and durable universal stand with height adjustment. Powder painted in silver colour RAL 9006, which fits to line of Ergolinia chairs.
TABLE TOP TW PREMIUM - the highest quality table top made of moisture resistant birch plywood (30 layer) which perfectly damps vibrations. PREMIUM table top surface is coated with a special laminate resistant to impact, abrasion and splinters. Sides protected by ABS slats. TEXI PREMIUM table tops do not contains harmful ingredients. Dimensions 105x50x4 cm (length x width x height).
S105 - thread cutter with a colored handle, length 10,9 cm.
Technical specification:
| | |
| --- | --- |
| Type of sewing material | medium, heavy |
| Type of feed | bottom and walking foot |
| Automatic thread trimming | yes |
| Automatic needle positioning | yes |
| Automatic foot lifter | yes |
| Automatic bartacking | yes |
| Wiper | no |
| Stitch compensation button | yes |
| Type of lubrication | central circuit |
| Touch screen | No |
| LED lighting of working field | yes |
| Presser foot lift height | 16 mm |
| Max. stitch length | 8.0 mm |
| Max. sewing speed | 2000 s.p.m. |
| Built-in AC Servo motor | yes |
| Needle system | 135X17 |
| Power supply | 230 V |
| Table top | Standard 105 x 50 cm |
| Warranty period | 24 months |